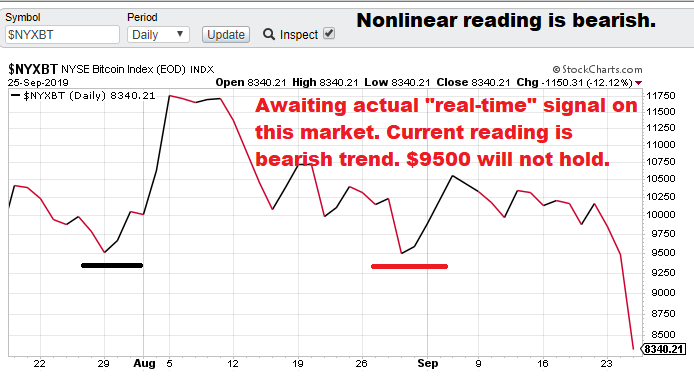 2-month (approx.) focus chart.
Current market Predictions:
$NYXBT (Bitcoin), bearish since model (V6.0) went online, awaiting "real-time" signal with a current TSP. I don't post hypothetical model trades.
Current price for CTM research, $15,000.xx per quarter for two symbols.
Model notes: This is basically the debut of the 6.0 version. This approach is more mathematically elegant and should help CTM research models to stay in-synch with the underlying markets that are being modelled. This is a big deal in non-linear modelling. I am going to shoot more to post once a week instead of just trend changes.
What? The Pelosi impeachment investigation is billed as a "get Trump" political action. Lack of evidence to such a high crime is not present. This is more likely a "backdoor" Democratic Part infighting move to take Joe Biden out of the presidential hopeful list, possibly to create room for a more progressive candidate to get traction. I don't see this as a particularly well thought out move (Dems are synonymous with the unpopular ailment known as "Impeachment fatigue"). Still as a short-term move to rearrange the Democratic hopeful list, sometimes the gunfight goes simply to the quick.
Note: The following comments are based on using technical analysis to 'flesh out' our nonlinear trading signals. TSP is defined as the closing price on the day following the signal day.
Nonlinear Trading Themes:Bitcoin forecast ($NYXBT): Now we are looking for the cryptocurrency to move lower. Near-term support at $9500 has been pierced.
GH Garrett – Chief Market Analyst for ConquertheMummy.com © 2015-2019, "Nonlinear trading signals that matter in bitcoin trading."