Current Model (version 4.x) positions:
$NYXBT (Bitcoin), 10/16/18, bear trend signal. TSP will be the close of the following trading day.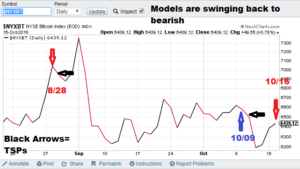 Model notes: V4.x the previous signal was a little shorter than usual. Models need to be flexible enough to be able to adjust with probable trend changes.
Note: The following comments are based on using technical analysis to 'flesh out' our nonlinear trading signals. TSP is defined as the closing price on the day following the signal day.
Nonlinear Trading Themes:
Bear Trend Signal ($NYXBT): The models now are signaling a retest of the 6000 level.
GH Garrett – Chief Market Analyst for ConquertheMummy.com  © 2015-2018, "Nonlinear trading signals that matter in bitcoin trading."