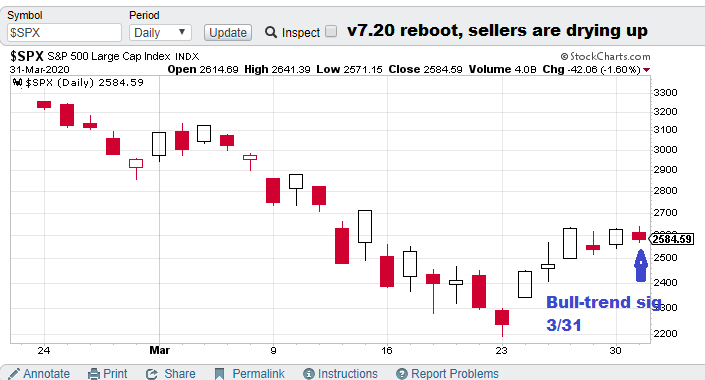 1-month (approx.) focus chart.
Current S&P 500 Prediction: $SPX (S&P 500), Bull-trend signal (v7.2), (03/31/20).
Model notes: We continue to struggle with sheer selling power of the market driven by the COVID-19 pandemic. The new version (7.20) should handle some of the more emotional drive actions on the S&P 500. I am very excited to see the new submodule in action.
Note: The following comments are based on using technical analysis to 'flesh out' our nonlinear trading signals. TTP (Theoretical Transaction Day) is defined as the closing price on the trading day following the signal day.
Nonlinear Trading Themes:
S&P 500 forecast (Bullish, SPX): This is it, the market has put in some type of stable bottom as aggressive selling is drying up. Market participants have been given some timeframes for getting the country back up and running. President Trump first mentioned maybe Easter, then later seemed to indicate the end of April. In either case, a solid timeframe gives the beaten down market a goal to shoot for.
Current price for CTM research (signals), $15,000 per quarter for the S&P 500 "fast" nonlinear model. The faster model is more optimized for options trading.
Master Sergeant Bilko (the movie version) said, "I like a sporting event in which I know the outcome beforehand, it's more organized."
GH Garrett – Chief Market Analyst for ConquertheMummy.com  © 2015-2020, "Nonlinear trading signals that matter in stock index and S&P 500 trading. Determine the future direction of the S&P and trading becomes much less complex."