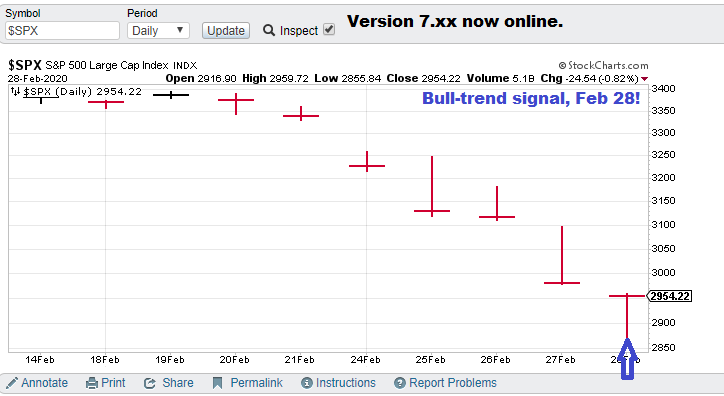 02/28/20 Oversold is the world!
1/2-month (approx.) focus chart.
Current S&P 500 Prediction: $SPX (S&P 500), Bull-trend signal (02/28/20), TTP= Close of Monday.
Current price for CTM research (signals), $15,000 per quarter for the S&P 500 "fast" nonlinear model. The faster model is more optimized for options trading.
Model notes: We are unleashing the new version 7.00 on the S&P 500, today is the official send off for the first signal. The market is being buffeted by fear and speculation on the coronavirus (COVID-19).
What does the S&P 500 say about … the new virus (COVID-19)? The S&P 500 is really been knocked as market participants are trying to grapple with the illness unknowns. Will the illness and the countermeasures slow the global economy? So far it does not to seem to have the killing power of the flu, which we deal with on a yearly basis.
Note: The following comments are based on using technical analysis to 'flesh out' our nonlinear trading signals. TTP (Theoretical Transaction Day) is defined as the closing price on the trading day following the signal day.
Nonlinear Trading Themes:
S&P 500 forecast (Bullish, SPX): The market has been knocked down, not from negative economic news but on the back of uncertainty concerning the virus. Nonlinear trend / Chaos trend analysis is indicating the market is oversold and a bounce cycle is forming. Let's see what next week brings but it should include higher prices.
Master Sergeant Bilko (the movie version) said, "I like a sporting event in which I know the outcome beforehand, it's more organized."GH Garrett – Chief Market Analyst for ConquertheMummy.com © 2015-2020, "Nonlinear trading signals that matter in stock index and S&P 500 trading. Determine the future direction of the S&P and trading becomes much less complex."