Current Model (version 4.0) positions:
$NYXBT (Bitcoin), 11/20/18, bull trend signal. TSP will be the close of Nov 21, 2018.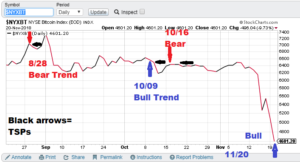 3-month chart. Current price for 4 symbol package = $7,500 quarterly.
Model notes: The model spent the majority of the last 3 months on the short side of the cryptocurrency market and it was that was definitely the side you wanted to be on. The model seems to be in synch with the market, and for a model builder, it is a good feeling.
Note: The following comments are based on using technical analysis to 'flesh out' our nonlinear trading signals. TSP is defined as the closing price on the day following the signal day.
Nonlinear Trading Themes:
Bull Trend Signal ($NYXBT): The cryptocurrency broke down after trading in an extended range. But after almost 2 weeks of fairly muscular selling, the nonlinear models indicate the selling pressure is over. Current bears may want to be looking to book some profits.
GH Garrett – Chief Market Analyst for ConquertheMummy.com  © 2015-2018, "Nonlinear trading signals that matter in bitcoin trading."