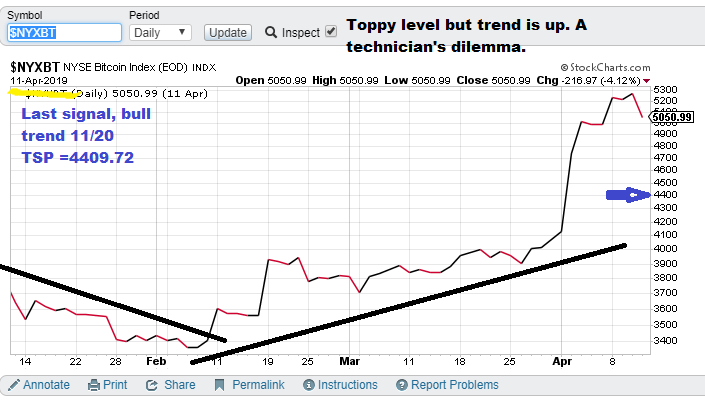 3-month focus chart.
Current Cryptocurrency Prediction:
$NYXBT (Bitcoin), 11/20/18, bull trend signal. TSP (11/21) = 4409.72. Upside 3-month bitcoin price forecast is 5250.
Current price for a 4 symbol package = $7,500 quarterly.
Model notes: This post was made Friday (April 12) midday, looking back at the chart updated through April 11. The great news is that the chaos nonlinear forces have finally kicked in and Bitcoin moved decisively higher. The "catch the falling knife" bull trend signal (11/20) is now "in the money." We briefly kissed our nonlinear forecast projection (5250). Basically I am waiting for the projection to ratchet up of have a reversal signal. The model is still in-synch with the trading.
Signs and Times: Since the Mueller investigation concluded, I think the Clintons have disappeared. I don't see them in the media. It is as if a UFO came and collected them late one night. Or they could be hunkered down in a bunker surrounded by lawyers, carefully listening across the waters for Trump to yell "Starboard side, prepare to fire!"
Note: The following comments are based on using technical analysis to 'flesh out' our nonlinear trading signals. TSP is defined as the closing price on the day following the signal day.
Nonlinear Trading Themes:
Bitcoin forecast ($NYXBT): Wow! Bitcoin rocketed up 25% in a month. We are now at our projection area warning this could be a toppy market. On the other hand, the trend is still pointed upward. So, I am waiting for either a trend signal change or an upward market projection to higher levels. The classic technician's dilemma. For now the nonlinear process is still up.
GH Garrett – Chief Market Analyst for ConquertheMummy.com © 2015-2019, "Nonlinear trading signals that matter in bitcoin trading."