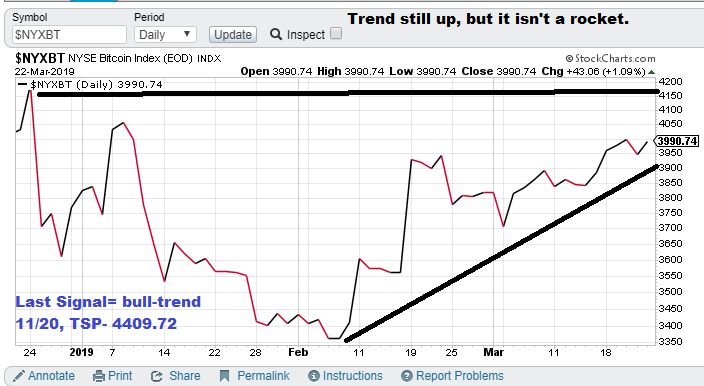 Current Cryptocurrency Prediction:
$NYXBT (Bitcoin), 11/20/18, bull trend signal. TSP (11/21)= 4409.72. Upside 3-month bitcoin forecast is $5250.00
3-month chart. Current price for a 4 symbol package = $7,500 quarterly.
Model notes: This post was made Saturday (March 23rd) looking back at the chart updated through March 22. The model is still under water from the "catch the falling knife" buy (11/20 signal) but the recent bounce off the early Feb lows looks convincing. The 5250 projection is northward (this is roughly in line with our previous projection). Incidentally we have recently added a Bitcoin price forecast to our comments, our research effort continues. The model is still in-synch with the trading.
Note: The following comments are based on using technical analysis to 'flesh out' our nonlinear trading signals. TSP is defined as the closing price on the day following the signal day.
Nonlinear Trading Themes:
Bitcoin forecast ($NYXBT): The Bitcoin market trend has reversed to the upside following lows in mid-December and early February. We do have resistance ahead at the 4200 mark but the nonlinear projection of 5250 indicates this should be broken going forward.
GH Garrett – Chief Market Analyst for ConquertheMummy.com © 2015-2019, "Nonlinear trading signals that matter in bitcoin trading."