Model Gold Portfolio: Now short (signal 3/16)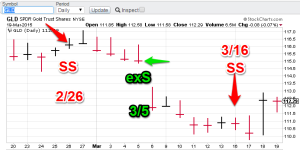 Technical Read: Gold and largecaps (two markets that are not known for moving in unison) both leapt in the aftermath of the Fed removing the word "patience" from the much parsed central bank comments. The act had been widely anticipated, so perhaps I can be forgiven by saying this seems like an over-reaction. Still the markets will do what they have to do. Nonlinear trading analysis readings are still negative for gold (and largecaps). I do not expect 110.50 to hold (GLD basis). The model portfolio remains short.
Backdrop:
Catalyst 1 – I alluded to the S&P 500 comments in the gold section. I don't expect largecaps to trend upward at this point either. Anyway, I have an announcement. Easter is coming soon, as part of the resurrection holiday celebration, the CTM website is going to (for 30days, starting the day after Easter) display S&P 500 charts with independent signals. I will be using the time period to recalibrate my stock signals on perhaps the world's most analyzed index. Talk about going for the brass ring! Gold signals will continue as normal.
Bond Trading Signals. I am offering a similar Mummy process for Treasuries. See the "Bond Trading Signals" tab for more info. Currently available.
Currency Trading Signals. I am now offering a similar Mummy process for currencies. This service will involve two signal paths, one on the US dollar and the other on a user selected second currency (1+1).The fee will be the same as the bond trading signals. Currently available.
GH Garrett – Veteran Commodity Watcher for Conquer the Mummy .com "Nonlinear signals that matter in gold trading."