Model Gold Portfolio: 3/5 neutral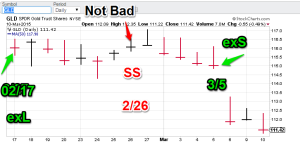 Technical Read: There was a bright side for the 3/5 exit short signal: The move to neutral was posted in the evening, after Comex trading had ceased. That meant market traders would have been "forced" to exit the shorts on 3/6, which was an awesome day to close out a short position (experienced traders will attest to how smooth an exit goes when the market is strongly moving in the direction of the trade). So now what? GLD broke the tenuous support at the 114.25 level, a bearish move. On the other hand, the 3/6 move has put the market in (albeit a short-term) oversold position. Nonlinear trading analysis readings are not giving the market a signal either way, except for this: WAIT! This could be the beginning of a market change.
Backdrop:
Catalyst 1 – The S&P 500 is on its heels as well. The market is jittery with the Fed waiting (like a vulture on a nearby tree) to hike rates. I am not sure they can do it with Europe and Japan going the other way. Nonlinear trading readings on largecaps are inconclusive. This is neutral for gold.
Bond Trading Signals. I am offering a similar Mummy process for Treasuries. See the "Bond Trading Signals" tab for more info. Currently available.
Currency Trading Signals. I am now offering a similar Mummy process for currencies. This service will involve two signal paths, one on the US dollar and the other on a user selected second currency (1+1).The fee will be the same as the bond trading signals. Currently available.
GH Garrett – Veteran Commodity Watcher for Conquer the Mummy .com "Nonlinear signals that matter in gold trading."