Model Gold Portfolio:  Neutral (3/5 signal)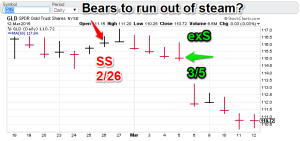 Technical Read: Gold traded firmer before sellers managed to get the close negative (GLD basis, down .03). We are facing the same situation, trend down, but market oversold. Conflicting technicals. We are waiting for a renewed signal from nonlinear trading analysis readings.
Backdrop:
Catalyst 1 – The S&P 500 rallied strongly after several potent down days in the last few weeks. Import prices climbed last month but the previous months were weak. There is not enough inflation data to warrant the Fed increase. Interestingly, nonlinear trading readings issued a sale on largecaps. This is neutral for gold, for now.
Bond Trading Signals. I am offering a similar Mummy process for Treasuries. See the "Bond Trading Signals" tab for more info. Currently available.
Currency Trading Signals. I am now offering a similar Mummy process for currencies. This service will involve two signal paths, one on the US dollar and the other on a user selected second currency (1+1).The fee will be the same as the bond trading signals. Currently available.
GH Garrett – Veteran Commodity Watcher for Conquer the Mummy .com "Nonlinear signals that matter in gold trading."