Model Gold Portfolio: 3/5 neutral, previous signal= Short, 2/26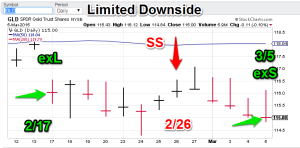 Technical Read: GLD closed down, right on the 115 line today. This is a little short of my 114.5 forecast, but still squarely at the low end of the recent two-week trading range. Nonlinear trading analysis readings have flat-lined. This signals limited downside ahead and thus the model portfolio is now neutral. Remember exting a short is not the same thing as taking a bullish position. It is too early to go long on gold.
Backdrop:
Catalyst 1 – The S&P 500 sold off from March 2nd highs, but not terribly so. A tidbit of global news received considerable airplay today: Chinese premier, Li Keqiang advised the county's GDP target is "around 7 percent." This has been universally interpreted to mean weaker-than-seven (global deflation headwinds?). Nonlinear readings on largecaps have turned neutral as well. This, in turn is neutral for gold.
Bond Trading Signals. I am offering a similar Mummy process for Treasuries. See the "Bond Trading Signals" tab for more info. Currently available.
Currency Trading Signals. I am now offering a similar Mummy process for currencies. This service will involve two signal paths, one on the US dollar and the other on a user selected second currency (1+1).The fee will be the same as the bond trading signals. Currently available.
GH Garrett – Veteran Commodity Watcher for Conquer the Mummy .com "Nonlinear signals that matter in gold trading."