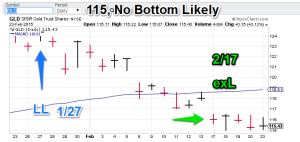 Model Gold Portfolio: Now: Neutral (exit long 2/17)
Technical Read: Gold has been trading quietly over the past 5 day (115-116, GLD basis). Nonlinear trading analysis readings are neutral, so the 115 level is not likely to hold.  Gold has basically been in a grinding decline since late-Jan highs. The model portfolio remains neutral. I am looking for a new trade based on my readings, but the numbers are not giving me any trending indications yet.
Backdrop:
Catalyst 1 – Largecaps seem comfortable after breaking out of their recent range (2070, S&P 500 basis). Nonlinear readings are constructive for higher prices. The Manufacturing Purchasing Managers Index cam in at 54.3 in February, besting economists estimates and the previous month's readings as well. This is modestly bearish for gold.
Bond Trading Signals. I am offering a similar Mummy process for Treasuries. See the "Bond Trading Signals" tab for more info. Currently available.
Currency Trading Signals. I am now offering a similar Mummy process for currencies. This service will involve two signal paths, one on the US dollar and the other on a user selected second currency (1+1).The fee will be the same as the bond trading signals. Currently available.
GH Garrett – Veteran Commodity Watcher for Conquer the Mummy .com "Nonlinear signals that matter in gold trading."