Model Gold Portfolio: Now Short, 2/26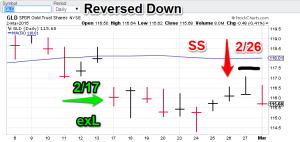 Technical Read: Gold reversed the three-day drift to modestly high prices today. A reversal from the high inside a congestion zone (currently 114.25-117, GLD basis) tends to point to a retest of the lows. Nonlinear trading analysis readings suggest at least a test of the 114.50 level. Expect more selling. The model portfolio remains bearish.
Backdrop:
Catalyst 1 – The S&P 500 continues to creep higher. Today's close was at the highest level in the past 10 days. Commerce Department reading of a downtick in consumer spending is likely to have roots in the general reduction in energy (gas) prices. This is going to free up purchasing power for other consumer endeavors. Nonlinear readings are still on a 'buy' here. If stocks accelerate, it will be a headwind for gold.
Bond Trading Signals. I am offering a similar Mummy process for Treasuries. See the "Bond Trading Signals" tab for more info. Currently available.
Currency Trading Signals. I am now offering a similar Mummy process for currencies. This service will involve two signal paths, one on the US dollar and the other on a user selected second currency (1+1).The fee will be the same as the bond trading signals. Currently available.
GH Garrett – Veteran Commodity Watcher for Conquer the Mummy .com "Nonlinear signals that matter in gold trading."