Model Gold Portfolio: Now short (signal 3/16)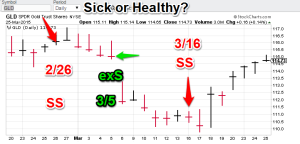 Technical Read: Gold has advanced more than I would like to see from the 3/16 short signal. The Fed decision to remove of "patience" from its statement was followed by a verbal repudiation of the change (the promise not to become "impatient"). It would not seem like a big change, but gold reversed its downward trend in the aftermath and meaningful selling has yet to reappear. Technically, the market overbought (up four straight days), however, nonlinear trading analysis readings are becoming more ambivalent. We will have to continue the vigil a little longer to see if the gold market falls back or remains healthy enough to move higher.
Backdrop:
Catalyst 1 – We had a reconfirming 'sell' on the S&P 500 on 3/23 (the previous sell being 3/12). Largecaps had a bad day (30pts down, S&P 500 basis). So we seem to be more in synch on this market lately. Remember, immediately after Easter Sunday, we will start including S&P signals on CTM for 30 days. Tune in to see what we have to say!
Bond Trading Signals. I am offering a similar Mummy process for Treasuries. See the "Bond Trading Signals" tab for more info. Currently available.
Currency Trading Signals. I am now offering a similar Mummy process for currencies. This service will involve two signal paths, one on the US dollar and the other on a user selected second currency (1+1).The fee will be the same as the bond trading signals. Currently available.
GH Garrett – Veteran Commodity Watcher for Conquer the Mummy .com "Nonlinear signals that matter in gold trading."