Model Gold Portfolio: Now long 3/31, (previous signal sell 3/16)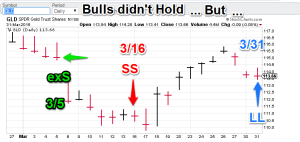 Technical Read: Gold tried to lift today after two days of weakness; the metal fell back towards the end of the day, modestly. GLD inched down 9 cents at the close. Nevertheless, nonlinear trading analysis readings have now turned bullish (skipping the usual "exS" neutral reading). Recent Mideast escalations (i.e. airstrikes from Saudi Arabia) are likely to keep sellers off balance. The model portfolio is now long.
Backdrop:
The S&P 500 reconfirming sell on 3/23 (the previous sell being 3/12) is still playing out. Remember, immediately after Easter Sunday, we will start including S&P signals on CTM for 30 days. Tune in to see what we have to say!
Bond Trading Signals. I am offering a similar Mummy process for Treasuries. See the "Bond Trading Signals" tab for more info. Currently available.
Currency Trading Signals. I am now offering a similar Mummy process for currencies. This service will involve two signal paths, one on the US dollar and the other on a user selected second currency (1+1).The fee will be the same as the bond trading signals. Currently available.
GH Garrett – Veteran Commodity Watcher for Conquer the Mummy .com "Nonlinear signals that matter in gold trading."