Model Gold Portfolio: Sell 2/26, previous signal, neutral (exit long 2/17)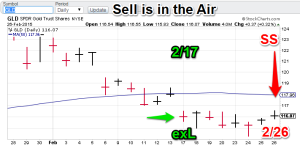 Technical Read: Gold popped up at the opening today before selling off the highs by the end of trading. The GLD is now at the high-end of its recent trading range.  From a chart standpoint the trend is still down.  Nonlinear trading analysis readings are now signaling more selling pressure waits. I do not expect 115 (GLD basis) to hold. The model portfolio is now bearish (today's signal).
Backdrop:
Catalyst 1 – The S&P 500 ticked down 3pts on today's trading. Weekly jobless claims fell 21,000. In the aftermath, interest rates advanced. The Fed is still being noncommittal as to when the tightening begins. It is a cinch, it won't be tomorrow. Nonlinear readings are positive for largecaps, so I expect higher equity prices. This is modestly bearish for gold.
Bond Trading Signals. I am offering a similar Mummy process for Treasuries. See the "Bond Trading Signals" tab for more info. Currently available.
Currency Trading Signals. I am now offering a similar Mummy process for currencies. This service will involve two signal paths, one on the US dollar and the other on a user selected second currency (1+1).The fee will be the same as the bond trading signals. Currently available.
GH Garrett – Veteran Commodity Watcher for Conquer the Mummy .com "Nonlinear signals that matter in gold trading."