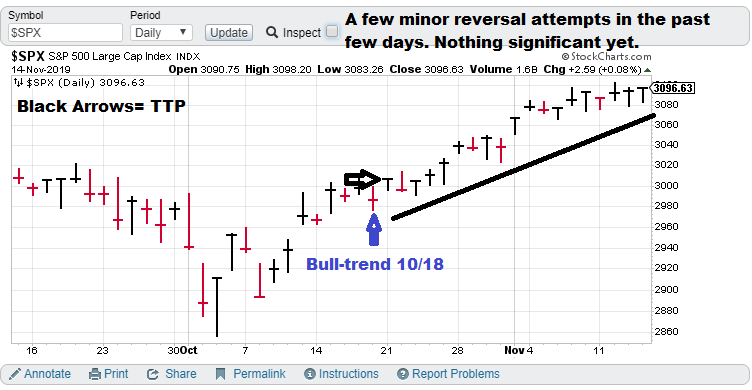 2-month (approx) focus chart.
Current Market Prediction (slow model):
$SPX (S&P 500), Bull-trend signal (10/18/19) with TTP= 3006.72.
Current price for CTM research (signals), $15,000 per quarter for the S&P 500 "fast" nonlinear model. The faster model is more optimized for options trading.
Model notes: Todays S&P 500 close is the highest of the week so far. So far, we have kept with the trend while avoiding being tripped out by false signals that trick bulls out of a bullish trend. Model still in-sync. Chaotic trend / nonlinear trend analysis is giving us the glimpse at the future trend.
What? Well, the impeachment is on. With a Republican controlled senate, it seems like a waste of time. I would like to share how I look at this. The Democratic Party is fractured into 2 halves: liberals (Biden) and progressives (Jr. Communist, Bernie Sanders). Progressives consider Warren a liberal, trying to pass herself off as a progressive. The liberals have received some analysis advising them they will lose 2020 no matter who runs from their current 3+1 (Buttigieg) team. For them the impeachment is a disparate "hail Mary" pass, trying to snatch victory from defeat. The progressives are actually trying to take over the Democratic Party. To them this is an attempt to remove Joe Biden through displaying Hunter Biden's corruption (also a jab at Trump is okay for them). The market is taking a longer-term view of this and is ignoring the hearings largely.
Note: The following comments are based on using technical analysis to 'flesh out' our nonlinear trading signals. TTP (Theoretical Transaction Day) is defined as the closing price on the day following the signal day.
Nonlinear Trading Themes:
S&P 500 forecast (SPX): S&P closed at the high of the week, despite limited selling over the past several trading days, since Nov 7th. The bears don't seem to have the firepower to drive the market down yet. The clumsy political machinations by the Democratic Party has not provided enough angst (against the backdrop of a Republican-controlled Senate) to bring in sellers. Technical trend is still up. Nonlinear / Chaotic indicators are still bullish. We are watching.
GH Garrett – Chief Market Analyst for ConquertheMummy.com © 2015-2019, "Nonlinear trading signals that matter in stock index and S&P 500 trading."