ConquerTheMummy model review, featured market, US long bond rates (as measured by TBT) during July and August 2016. The summary: Very good.
Note: TSP stands for 'theoretical signal price' and is calculated as being the close of the trading day following the signal day. It is used in all CTM price comparisons and is a more realistic metric concerning evaluations/trading results. If your current independent research provider doesn't use this methodology, their models may not be as prescient as those used at CTM.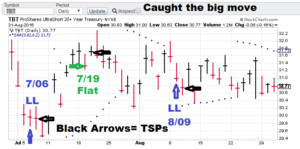 The main fundamental factor during this time period was speculation around possible Fed actions to lift interest rates. The argument "for" the increase was basically a nod to accepting the modest economic expansion and the need to get to a more normal interest rate level. The "con" argument usually mentioned the two facets: the tepid rate of growth (implying fragility) and the approaching presidential election (not wanting to appear like they are taking sides). So how about CTM? The biggest move of the period was captured by the 7/09 to 7/19 (measured by TSP to TSP). The models stayed flat until the 8/09 signal (TSP=30.73). The TBT became relatively trendless for the remainder of the month. At the end of the featured period (Aug 31), the TBT was mildly in the money but at the time of this writing (Sep 8, intraday), it is doing much better. The fact that nonlinear analysis chose to not initiate a short, may be indicating that higher rates lie ahead further out in the future. The model batting average for the two-month period? Two for two winners. And a possible nonlinear tip for higher rates.in a more distant time-frame. Another great time to be following nonlinear analysis for your future look at the markets!
We offer a premium product, asset class ranking (check out the ranking tab). Use the diversity of independent research to add power to your portfolio construction process. Contact us today!
GH Garrett, Chief Market Strategist for ConquerTheMummy.com
Info@conquerthemummy.com