ConquerTheMummy model review, featured market, December Crude during October and November 2016.
I had to show the featured chart signals on the Jan Crude market as Dec contract quit trading before the month of November ended.  The results are two winners for two trades. So why just call this pretty good? We spent a lot of time during the trades out of the money. We changed to software v3.0 for crude, but some of the parameters settings were from v2.0 (thus sub optimal). Groan. Enough of this gloomy system talk, let's look at the market.
The summary: Pretty good!
Note: TSP stands for 'theoretical signal price' and is calculated as being the close of the trading day following the signal day. It is used in all CTM price comparisons and is a more realistic metric concerning evaluations/trading results. If your current independent research provider doesn't use this, their models may not be as prescient as those used at CTM.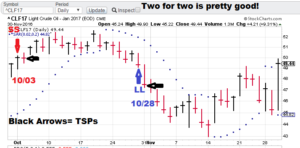 The big geo-political event over shadowing this time-period was the bruising US presidential election. The Clinton political machine (media contacts included) blasted away at Trump while a strange coalition of Putin-Wiki Leaks-FBI seemed to congeal as a force against Hillary. The Trump win proved to be a surprise for all connected to the establishment. The synchronicity of the US press in this was also eye popping. Anyway, the march to the election featured a mist of depression and weighed on the crude market during the period. Anyway, post-Trump seems to have trigger a sea-change of sorts with economic expectations in the US now to be on the mend in a meaningful way.  US economic growth keeps the world economy safer, and that is positive for energy. Again our ground breaking technology keeps us going, despite a crazy, crazy round of geo-political surprises.
We offer a premium product, asset class ranking (check out the ranking tab). Use the blessing of independent research to add power to your portfolio construction process. Contact us today!
GH Garrett, Chief Market Strategist for ConquerTheMummy.com
Info@conquerthemummy.com