ConquerTheMummy model review, featured market US Dollar Index during May and June 2016. The summary: very prescient!
Note: TSP stands for 'theoretical signal price' and is calculated as being the close of the trading day following the signal day. It is used in all CTM price comparisons and is a more realistic metric concerning evaluations/trading results. If your current independent research provider doesn't use this, their models may not be as prescient as those used at CTM.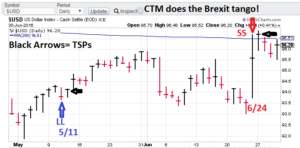 Two geopolitical issues came to the front, anticipated Fed rate hikes and the Brexit vote, helping to shape trading landscape in the greenback, but it was a tale of 2 cities. The concerns about the Fed hike started out being a strong (bullish) factor, then fading as the Fed seemed to shrink away from confidence in the US economy. Conversely, the Brexit (British leaving the EU) vote started out being seen as a formality (the "remain" vote seemed insurmountable) as a long line of luminaries (including Obama, the guy seems to have a talent for calling major events incorrectly) ascended to the podium to lecture the British voter to pull the lever to stay in the Union. The surprise "leave" result shook the markets in the immediate aftermath. How did the CTM nonlinear models do against the back drop of these events? Very well. During the early part of the two-month time period, the models quickly established a long position and then dumped into the strength following the British decision. The selling TSP was the highest closing price of the May-June time period!
Trust CTM models over career politicians? Well, it worked during May-June of 2016. We could say the models proved very prescient.
We offer a premium product, asset class ranking (check out the ranking tab). Use the blessing of independent research to add power to your portfolio construction process. Contact us today!
GH Garrett, Chief Market Strategist for ConquerTheMummy.com
Info@conquerthemummy.com